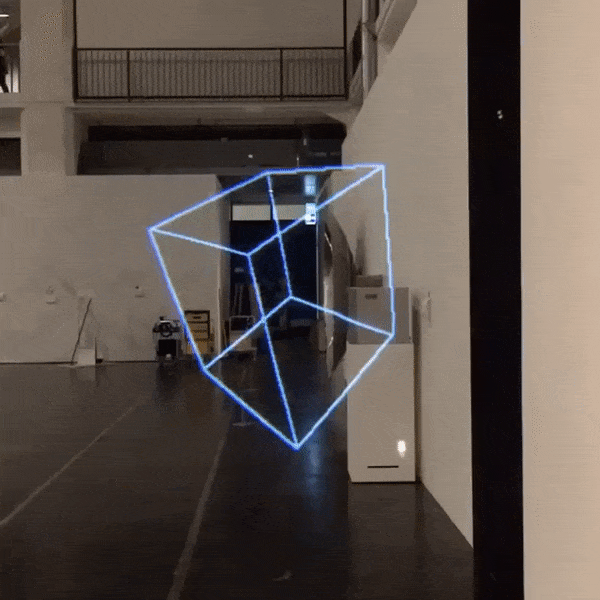 WISSEN - ZKM research program
VIRTUAL SCULPTURE - JEFFREY SHAW
1981 • INTERACTIVE AUGMENTED REALITY
​
Virtual Sculpture by Jeffrey Shaw, is a pioneering augmented reality installation. The installation used an Apple II computer with its game paddles attached to the monitor to register the tilt and rotation movements. The projected images showed simple, slowly turning wire-frame objects.
On December 12th, Jeffrey Shaw offered ZKM the opportunity to acquire, as a donation, five exclusive works, spanning 52 years, which he considers as his milestones, to ensure their longevity. Virtual Sculpture, no longer exists and must be reconstructed.
We started then a challenging media archeological reconstruction of Virtual Sculpture with an Apple II Plus computer. An historical reconstruction of this artwork is highlighting the innovative and pioneering aspect of this early augmented reality system. We also wanted to take the chance to gather more knowledge about this former technology and grow our network with the Apple II community in Europe. Many artists used Apple II technologies, as Chris Marker for example, whose artworks are belonging to the Center Pompidou in Paris. The reconstruction of this artwork is likely to be exemplary for the history of computer science in regard to digital artistic creation, as well as the study of the technical and technological possibilities developed by Apple and used by the artists at that period. The reconstruction of Dialector, an early artistic artificial intelligence created by Chris Marker in the late 80s, by the Poptronics research group is a good example of the current enthusiasm in the field.
​
This research has been presented at Technological Arts Preservation - Sabancı University Sakıp Sabancı Museum (SSM), Istambul, Dec 13,
2019. Video